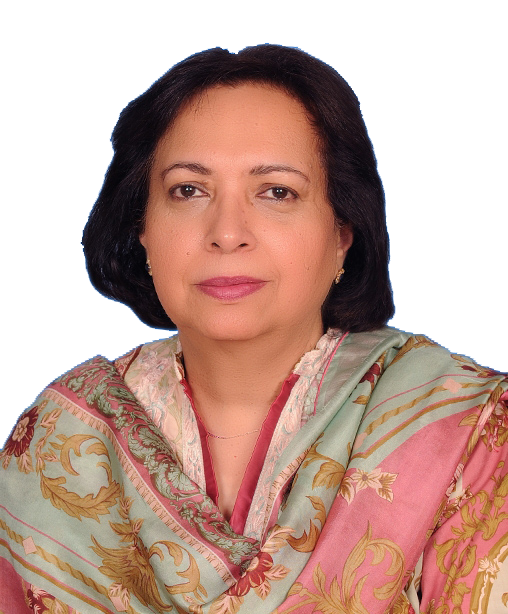 Munaza Hassan started her political career in 1996 and joined Pakistan Tehreek-e-Insaf (PTI), determined to change status quo with a desire for transparency and accountibility. She is one of the earliest members of PTI and a member of the party's central executive and core committees.
In 1997, Munaza Hassan organized and led PTI's Punjab women's wing as its President. Later, she went on to contest the intra-party elections in 2012 and was elected the President of PTI's women's wing.
In 2013, Munaza Hassan was elected as Member of the National Assembly of Pakistan for the first time on a reserved seat for women from Punjab. In the National Assembly Munaza Hassan served as a member of the Standing Committees on Human Rights, Privatization and Law and Justice. She was also one of the most active members the Women's Parliamentary Caucus (WPC) as she was a member of Working Council of the WPC.
In 2018, Munaza Hassan was re-elected to the National Assembly of Pakistan on a reserved seat. She has continued her commitment for women's rights and is now serving as the Secretary Women's Parliamentary Caucus. A stanch believer of women equality, she is spearheading multiple interventions on gender responsive legislation, women health and education, and political advocacy. Also the Chairperson Standing Committee on Climate Change, she is the only woman parliamentarian to chair any Standing Committee in the National Assembly. She is also the convener of the sub-committee of Public Accounts Committee. Besides this she is also member of the Standing Committee on Foreign Affairs.
Munaza Hassan has always had interest in improving the lives of the people of her country and had throughout been involved in social work that brought her attention towards the plight of women in the society. Her focus of interest has since been the women empowerment at all levels. Her interest in contributing to improve the lives of the people of her country had inspired her to join politics with a commitment to eradicate corruption and vices from the society that was key to the emancipation of her country's citizenry. Her commitment "increases and strengthens by the day" as she quotes at every occasion.