Session 1: Women in Leadership Roles: Leading of the Agenda of Regional Connectivity
Serena Hotel, Islamabad- Ms. Sahiba Gafarova, Speaker of the Milli Majlis of Azerbaijan chaired the session one on 'Women in Leadership Roles: Leading of the Agenda of Regional Connectivity' where she talked about women issues in the region and how women as business and thought leaders can provide aid in dealing with these. She also thanked the Women Parliamentary Caucus (WPC) of Pakistan for providing this exclusive forum for women representative from all over the region.
Subsequently, Ms. Munaza Hassan, Secretary WPC/Chairperson Standing Committee on Climate Change welcomed the delegates and stressed on the importance of multilateralism and how WPC is a forum where women work beyond political affiliations for addressing issues of women. She also condemned the Israeli forces for their ongoing atrocities in Palestine. Further, she highlighted current government initiatives to empower women via ecommerce inclusion and social welfare programmes.
While speaking on the theme of Role of Women Chambers in Enhancing Regional Trade and Business, MNA Begum Sajida Zulfiqar Khan emphasized on Pakistan's focus on improving national exports and women inclusion in it as major beneficiaries of such developmental projects. Foreign delegate of Afghanistan, Ms Shinkai Karokhail, Member of Wolesi Jirga, Afghanistan under the same theme shared Afghanistan's progress in last two decades despite of being a war-torn country, particularly in terms of women representation at important forums in Afghanistan. Ms. Ganira Pashayeva, Chair of the Committee on Culture/Head of the Working Group on the Azerbaijan-Pakistan Inter-Parliamentary Relations called for support of brother countries for Azerbaijan due the conflict with Armenia that has rendered many women groups as vulnerable.
Parliamentary Secretary for Foreign Affairs, Ms Andleeb Abbas also emphasized on women's role as thought and opinion leaders and proposed the promotion of trade linkages among ECO countries where women can be the main beneficiaries. MNA Ms Shazia Marri, stressed on the importance of sustainable peace and inclusive development as side-by-side process. Ms Ceyda, Member of Turkey Parliament called women as drivers of powerful change in societies and talked about increasing women political participation in Turkey. She also shed light on the fact that Pakistan and Turkey are working together against terrorism and will not let foreign forces divide the geography.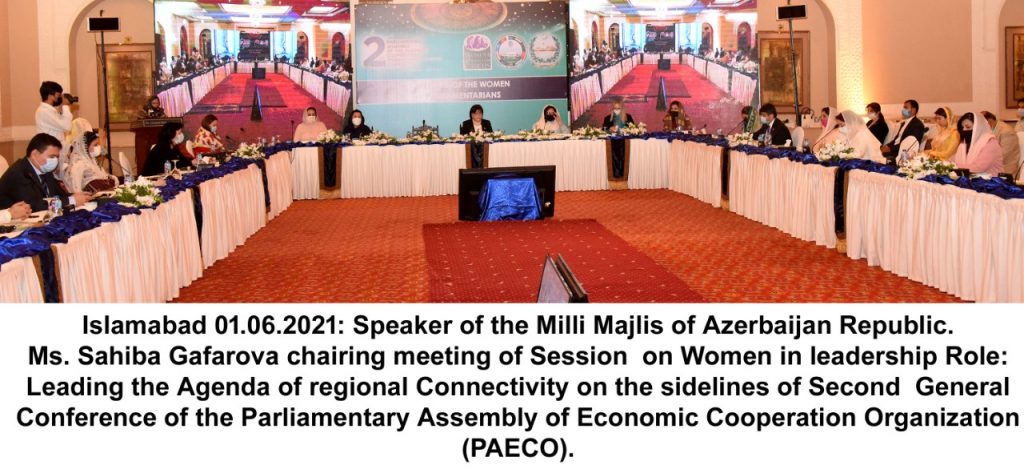 Session 2: Impact of Climate Change on Women – Affirmative Actions by Regional Parliaments
Session II was Chaired by the Speaker of the Grand National Assembly of Turkey, Prof. Dr. Mustafa Sentop who opened the session with highlighting the significance of climate change issue. He further elucidated that the effects of climate change transcend borders and regions. The most vulnerable community of climate change is women as specially in Asia where socio-cultural and economic reasons contribute to their vulnerability. He emphasized that its is high time to take responsibility if we want to leave a healthy planet for future generations
Lead speaker for the theme, Climate Change Challenges for Women: Parliamentary Solutions was Ms Munaza Hassan who also reiterated to leave clean environment for future generations and drew attention to the need for evidence-based policy making to combat the grave issue of climate change. Member of the Committee on Science, Education, Culture and Sports, Uzbekistan, Mrs. Butaeva Farida Kuzievna talked about the issues of climate change in Uzbekistan and thanked Pakistan for providing this auspicious platform.
Ms Zartaj Gul, the Minister of State for Climate Change, Pakistan explicated that Pakistan is one of the most affected countries of climate change despite of merely any contribution in carbon emissions. However, she also mentioned the measures taken by the current government like Billion Tree Tsunami, Plastic ban etc. She further emphasized the need for funding aid in capacity building programmes for women most affected by the climate change. For this, the minister added that PM of Pakistan' stresses on active role of youth and women to combat climate change and for the progress of the country
Ms Naureen Farooq Ibrahim, Member of National Assembly also reiterated on leaving a safer and cleaner planet for future generations and Ms Romina Khurshid Alam, MNA/Treasure of Women Parliamentary Pakistan wrapped up the session by thanking the delegates and ended on an optimistic note.